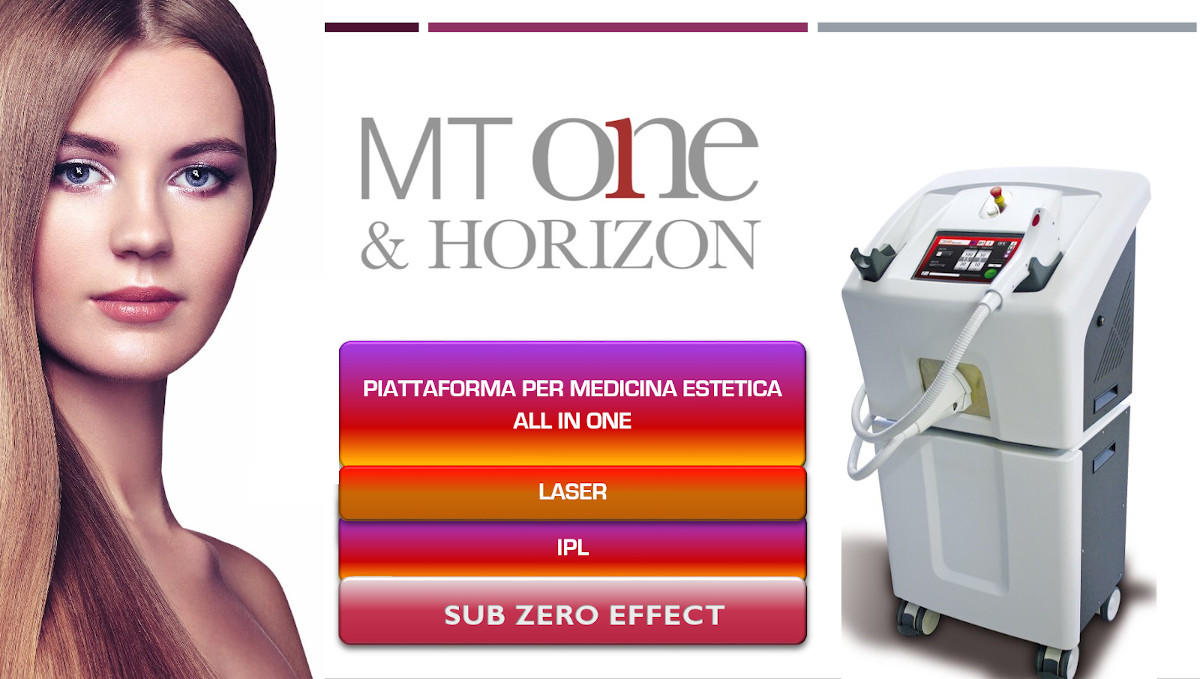 MT ONE platforms (HORIZON only for USA FDA)
Treating almost all the aesthetic and dermatological projects, this multi-source platform offers a wide range of Laser and Pulsed Light technologies, devoted to the aesthetic medicine.
The platforms offer severalFDA approved treatments like skin stimulation and rejuvenation, laser hair removal and IPL, vascular and benign pigmented lesions treatments, dermatological diseases (Polkiloderma of Civatte, hemangioma, rosacea, acne and many other).
The platforms are designed and made in Italy by M&T srl – Medical Technology, Rimini.
M&T srl is certified UNI EN ISO 13485: 2016 for design, production and technical assistance of electromedical devices for dermatological and therapeutic use.
FINAL DEVICE
The laser is certainly one of the most widely used devices in the aesthetic field, both as regards the aesthetic medicine and the beauty salons.
It has become a cliché to think of this device only as regards the hair removal, but the laser is also used with excellent results for facial treatments aimed at photo-rejuvenation.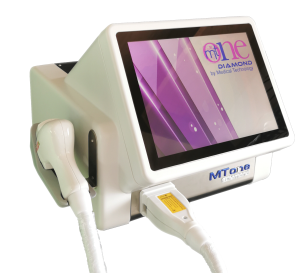 MT ONE Diamond high-frequency Laser DIODE 808 nm represent the new frontier in the permanent hair removal thanks to the laser technology, it allows to produce concrete results with high security and reliability.
AVAILABLE TECHNOLOGIES ON MT ONE & HORIZON PLATFORMS (only for US FDA)
IPL – Pulse Light
It is a new IPL technology, defined by a double cooling, that realize the SUB ZERO EFFECT.
The IPL modular are equipped with SMT– Sub Millisecond Technology – that is effective and safe especially for vascular treatments.
It is also available the hair removal IPL handpiece 630nm In Moving, that is effective and safe in summer for dark phototype. ​​
Laser Erbium:Glass 1540 – Non ablative
1540 is a non-ablative fractional technology for treatment of all types of scars, including acne and surgery.
It is used for skin resurfacing treatments. This module includes also a contact lens for the painless treatments.
Laser Erbium:YAG 2940 – Ablative​
2940 is a laser handpiece intended for use in soft tissue (skin and cutaneous tissue) in Dermatology and plastic surgery, for wrinkles treatment, epidermal Nevi, actnic chelitis, keloids, verrucae, anal tags, keratoses, scar revision (including acne scars).
​
Nd: YAG 1064nm​
This laser is ideal for treatment of vascular lesions of the lower limbs.
It is effective and ideal also for the hair removal on dark skins.
​Qsw Nd: YAG 1064/532 nm​
It is a nanoseconds laser module for skin rejuvenation, pigmented lesions and dark tattoos treatment, with 6 spot size.
In accordance with the New guidelines of the Italian Ministry of Health of 28/03/2013, in relation to health advertising concerning medical devices, the user is advised that the information contained therein is addressed exclusively to professional operators.
M & T S.r.l.
Via Pietrarubbia, 32, 47922 Rimini RN
Tel. 0541727486
Mail: info@medical-technology.it

© Copyright 2020| MEDICAL TECHNOLOGY | All Rights Reserved | Powered by NETSERVICE