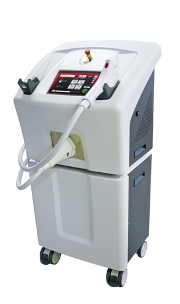 The final combination of solutions in a single platform.
M&T ONE provide an all-round aesthetic solution with an unlimited range of applications, using different technologies in a single expandable platform. Grow your medical clinic and you will become the first choice of your patients in different fields: facial skin rejuvenation, body contouring, hair removal and aesthetic medicine treatments.
A multitechnological Platform for different treatments
LASER AND PULSED LIGHT IN THE SAME PLATFORM
MTONE is an ALL IN ONE platform, upgradable over time as needed, available with High Power Laser and IPL Handpieces:
PULSED LIGHT (over 12 different handpieces)
Laser Diode 808
Laser Nd: YAG
LaserErbium: YAG
Erbium Laser: GLASS
Q-Switched Laser.
SUB ZERO EFFECT: UNIQUE TECHNOLOGY MADE IN ITALY
A unique and exclusive, contact integrated cooling system of MTONE, consisting of double Peltier technology and water, allowing safe treatments on dark phototypes and tanned skin.
Up to -12° C.
APC ADVANCED PULSED LIGHT TECHNOLOGY
A unique method of energy supply, by controlling impulses of pulsed light. Work can be performed in single and burst mode.
HIGH QUALITY COMPONENTS
the optical and electronic components of the platform and handpieces are of the highest level of quality. The size and appearance of the handpieces are larger than that of others on the market.
Advanced graphical interface with automatic, semi automatic and manual treatment parameter control
REMOTE SERVICE
Online technical assistance from the studio to production site
• Automatic handpiece and treatment parameter recognition
• Capacitive touch screen display of 10.1 inches
• Advanced graphical user interface with manual, automatic and semi-automatic treatment parameter control
• Quick connect hot swap handpieces
• Automatic handpiece detection and treatment parameters
• Compact trolley with optional container
In accordance with the New guidelines of the Italian Ministry of Health of 28/03/2013, in relation to health advertising concerning medical devices, the user is advised that the information contained therein is addressed exclusively to professional operators.
M&T Srl is certified according to the European directives UNI EN ISO 13485:2016