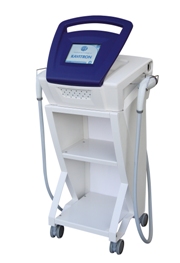 Cavitation system. Safe cavitation for aesthetic improvement.
KAVITRON is designated for men and women for non-invasive treatment of located adiposity, cellulite, and for the body remodelling.
KAVITRON realise an actual cavitation by using low frequency sonic waves (34 KHz) and thanks to the optimal combination of power and emission time.
The treatment with KAVITRON is performed in a relatively short time, 15/30 min, and it can be used also on different areas like hips, gluteus, arms and thighs. It is simple to use for the operator and painless for the patient who can get back at his daily activities immediately. The KAVITRON transducer handpiece generate ultrasound energy focused on the adipose tissue and is designed to damage only the adipose cells in the treatment area, without damaging the surrounding tissues i.e. blood vessels, nerves or connective tissue. The treatment shatters the membrane of adipose cells and the fat contained therein is carried with the intracellular fluids before being transported through the vascular and lymphatic system and then be removed.
CUTTING EDGE TECHNOLOGY
• KAVITRON generate low-frequency ultrasounds (34 KHz), able to penetrate deep into the tissue and reach the adipose layer.
• 2 different handpieces are able to generate low frequency focused ultrasound waves, one is flat and the other one is focused having the possibility to concentrate higher energy levels on a specific point.
COMFORT
• Localised and painless application
• No post-treatment ailment or redness
VISIBLE RESULTS
• Instant adipose tissue disintegration
• Reduction of the localised fat
• Silhouette remodelling in terms of tone and "orange skin" reduction
• Peripheral circulation reactivation and lymphatic drainage improvement
SIMPLE TO USE FOR THE OPERATOR
• The handy touch screen is a comfortable user interface to access the pre-set programming for a simple use, and the opportunity of consulting the user manual at any time.
In accordance with the New guidelines of the Italian Ministry of Health of 28/03/2013, in relation to health advertising concerning medical devices, the user is advised that the information contained therein is addressed exclusively to professional operators.
M&T Srl is certified according to the European directives UNI EN ISO 13485:2016